ALGODÃO E MESCLAS DE ALGODÃO

Lançado em 1996, hoje conta com milhões de vestimentas em uso por todo o mundo. A marca UltraSoft® é especificada por milhares de empresas ao redor do mundo, devido à sua ótima reputação em oferecer o equilíbrio perfeito entre proteção, conforto e durabilidade proporcionando o melhor custo-benefício do mercado.

O inovador UltraSoft AC é o tecido antichama mais confortável do mercado, sendo composto por fibras longas de algodão tipo Pima e contando com a tecnologia proprietária de amaciamento da Westex.

Lançado em 1987, Indura foi o primeiro tecido de fibras de algodão a oferecer a garantia de resistência a chama por toda a vida útil da vestimenta. O Indura é atualmente muito utilizado na confecção de jeans, jaquetas e calças para o setor siderúrgico e vestimentas para o setor de serviços.

Nosso mais recente lançamento, a malha TrueComfort™ oferece proteção para múltiplos riscos com excelente conforto e maleabilidade.

Westex Indigo™ é uma linha superior de tecidos de denim antichama que combinam a aparência do tradicional jeans com vestimentas de trabalho industriais protetoras, confortáveis e confiáveis.

O Westex UltraSoft® Flex é projetado para acompanhar o movimento dos usuários, proporcionando conforto e mobilidade enquanto trabalham. Além disso, esta linha oferece a excelente maciez, controle de encolhimento e garantia antichama garantida que só é possível com o processo de engenharia avançado e proprietário da Westex: A Milliken Brand.

Com uma mescla única, o Westex® DH proporciona transpiração excepcional e alto controle de umidade para manter o usuário mais confortável. O Westex® DH também conserva um excelente aspecto pós-lavagem.Uma excelente escolha contra arco elétrico, fogo repentino e proteção contra respingo de metal fundido.

Westex® DH AirTM traz todas as características de performance do Westex® DHTM
já comprovadas pelo mercado, oferecendo um tecido ainda mais leve para Proteção
Categoria 2.

Com uma capacidade única de dispersar metal fundido, o Westex Vinex® continua a definir a referência de tecido- padrão na indústria de alumínio atual. O tecido foi incorporado com sucesso em programas de vestimentas de proteção em grandes empresas de alumínio em todo o mundo por quase duas décadas, com relatórios positivos sobre o conforto.

Projetados para condições climáticas extremas, os tecidos Westex AllOut® são resistentes à água e ao vento. Este tecido é ótimo para uso sozinho ou como
um casaco exterior, quando combinado com um isolante como Westex InsulAir® em vestimentas para o frio.

Uma nova linha de produtos acolchoados feitos com rayon de sílica e multicamadas de preenchimento. Os sistemas Westex InsulAir® de pesos leve, médio e pesado oferecem excelente proteção em ambientes externos de baixa temperatura.

Uma versão mais suave e mais avançada de Westex Synergy®, a Westex Synergy® Pro foi projetada para superar outros tecidos de aramida líderes quando se trata de praticidade e aparência. Este tecido inovador oferece o máximo nível de conforto maximum com proteção inerente FR em dois pesos diferentes. Sendo Westex Synergy® Pro altamente durável com uniformidade de cor superior, sua qualidade permanece — mantendo a aparência profissional da sua equipe mesmo após diversas lavagens industriais.

A garantia da resistência à chama

Tecnologia Proprietária do Controle de Encolhimento

Conforto e maciez superiores
Comparação dos atributos chaves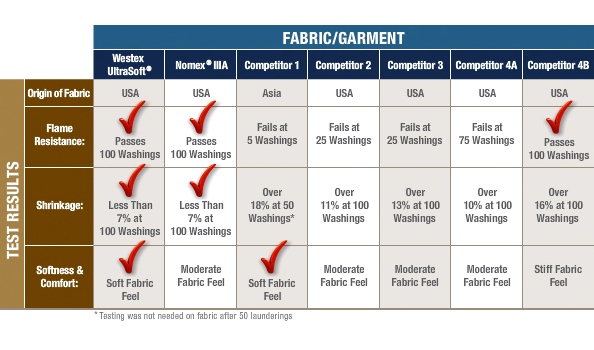 A diferença da Westex em relação aos demais tecidos do mercado
×

Already have an account?
Unlock
blank
We're so glad you are interested in our
blank
. Do you want to unlock just this resource or would you like to unlock all of our resources?
or
Create Account
Register to gain instant access to all of our current and future resources.